From azosensors
Wednesday, December 22, 2010
Pepperl+Fuchs has launched the MH01-M18 mounting brackets for use with the company's M18 cylindrical photoelectric sensor series and also for ML17 series.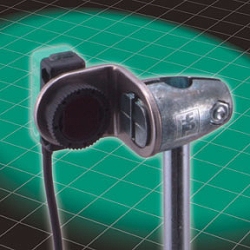 Mounting Brackets
Related StoriesOMH-RL31-06 Mounting Brackets to Align Photoelectric Sensors in Automation ProcessesPepperl+Fuchs Launch Photoelectric Sensors
These economical and improved mounting brackets facilitates the mounting of photoelectric sensing devices and offers industrial-standard M18 threading applications in material handling, packaging, and common automation purposes, providing multiple-axes arrangement requirements.
In contrast to the standard right angle installable brackets that are intrinsically rigid, these novel half-clamp modeled brackets permit the sensing device to activate rapidly on different axes for quick adjustments to fluctuating multiple-axes arrangement requisites. They are fixed on a 12 mm or 0.5 in diameter rod or bolt that have been commonly used in packaging and material handling devices. Upon installation, this half-clamp can be swiveled at 360° around the rod or bolt for proper alignment of the sensing device in order to meet unique application necessities.